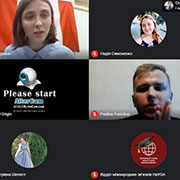 On October 15, the National University "Ostroh Academy" hosted an online event Erasmus + Life as part of the #Erasmus_Days initiative – a meeting of NaUAA students who were previously participants in educational exchange programs of the European Union. The event was organized and moderated by Victoria Furman, a specialist in the international relations department of NaUОA.
The meeting began with a presentation of Erasmus + program opportunities and a video greeting from the EU Delegation to Ukraine and the National Erasmus + Office in Ukraine.
In the list of visited countries by students of the Ostroh Academy under the programs of the European Union – Lithuania, Spain, Portugal, and Poland.